10.03.2010 | Blog
WOO-HOO!!!  Thanks for all the prayers, and comments, and emails, and phone calls.  I was able to ride today with a little readjustment in my position.  We were also very grateful that the shoulders were wide, the road surface smooth (as you can see by one of the photos – they were also newly tarred!) and the climbs gradual.  The weather was gorgeous!  We started out in an extra shirt and a jacket but were able to shed those after about 40 miles.  We passed lots and lots of cotton fields and pecan trees.  We stopped in Seminole, but couldn't find anything more exciting than a McDonald's for our stop.  We passed into New Mexico (although we're not yet finished with Texas!) right before stopping for the night.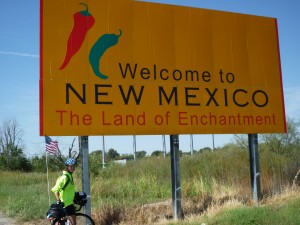 We're a little disappointed that we still haven't received any of our photos from the meeting with President Bush.  We were assured that they would be on his Facebook page, but still nothing.
We drove around Hobbs for awhile this evening, but like most of the towns we have passed through, there is little to see or do.  It was IHOP for dinner.  Not very exciting, but breakfast for dinner is always a good choice!
The time has changed to an hour earlier, so we're back to getting up at 5am!
Stats:
| | |
| --- | --- |
| Time: | 05:56:32 |
| Distance: | 84.47 mi |
| Elevation Gain: | 1,131 ft |
| Calories: | 3,433 C |
Live Animals:  Hawk, Cows, Horses, Goats, Llama, Dogs (2 that LOVED to chase bikes)
Dead Animals:  Mouse, Snake