10.04.2010 | Blog
Not much to say about today's ride except – we were fast!!!  Our average speed was 15.5 mph!  At one point we were going 18-20mph with little effort.  The wind was at our back, the shoulders were wide and smooth, and there was no traffic (of course there were no houses, or people, or anything else, either!).  There were no towns, or gas stations, or stores between Hobbs and Carlsbad, which means, for the first time, we had to make our own bathroom.  I was also reminded how unfair the anatomical difference is between males and females!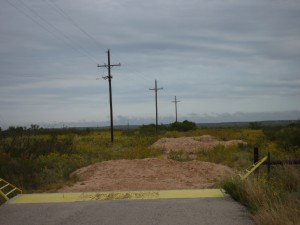 When we left this morning, it was 49° and we were dressed in 2 shirts, jackets and I had on knee warmers and full gloves.  It never got much above 70° and then the wind shifted during the last 15 miles of our ride and we had rain the last 10 miles, so we were glad we had the extra layers!
Because we finished so quickly today, we had time to go see Carlsbad Caverns.  (Rob decided he needed a little "alone" time, without women, so he stayed at the hotel.)  Such a beautiful place!  We spent about 3 hours there, exploring the caverns and looking around the gift shop, before heading back.  All in all – a great day!
| | |
| --- | --- |
| Time: | 05:31:20 |
| Distance: | 82.85 mi |
| Elevation Gain: | 802 ft |
| Calories: | 3,691 C |
Live Animals:  Turtle, Hawk, Dogs, Geese, Ducks, Chickens, Horses, Cows
Dead Animals:  Coyote, Snake, Frog