10.10.2010 | Blog
OK.  Forget everything I told you about difficult days.  TODAY was, by far, the hardest day of our ride.  Maybe even the hardest thing I've ever done physically – and that includes boot camp!
We started our ride in Arrey, NM and the Caballo Lake State Park.  It was cold and windy so we were in layers.  Once we turned onto Route 152 and started the climb, we quickly shed those layers!  In the first 15 miles, we climbed 1,400 feet.  But that was just the warm-up!
We stopped in Hillsboro at the Barbershop Cafe, a very cute cafe where the menu changes daily.  Rob had a croissant with egg, lettuce, tomato and bacon, and fried potatoes.  I had the most amazing french toast with fresh prickly pear syrup.  After being warned about the gravel ahead, we started to begin our real climb.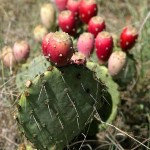 And climb we did!  And climb, and climb, and climb!  I kept thinking we would go around one more bend and we would have a flat part to rest.  But, no.  Hillsboro was at 5,212 feet.  The top of Emory Pass was 8,228 feet.  We climbed 3,016 feet in only 17 miles!  The road was bumpy and full of "s" curves and, at times, filled with loose gravel.  .We also encountered quite a few cattle grates.  We struggled at 3-5 mph for most of the climb.  However, the drivers were courteous and some waved and shouted encouragement.  I've never been so glad to be finished with something in my life!  About 1/4 mile from the top, a very nice man stopped to tell us we were close.  That pushed us on when we had little energy left.
Then, the downhill began!  Twisting and turning down the mountain tested our brakes and my courage.  The loose gravel was unnerving.  And then, just when we would begin enjoying the ride, there would be another climb.  What was this????  We were supposed to be going downhill!  It took all I had to keep going and not give up.  At one point, we were going 30 mph and the wind came up and slowed us to 9 mph!    It seemed very strange to be pedaling going downhill.  For the day, we climbed 5,101 feet and boy, does my body feel it!
Chef Shevek M Barnhart hosted us at an exceptional dinner at Shevek & Co in Silver City.  I had the Chicken & Fig Tagine and Rob had the Chicken Ashke.  Barbara and Penny had the Spanakopitta.  What a great end to a grueling day!
Stats:
| | |
| --- | --- |
| Time: | 08:22:57 |
| Distance: | 77.55 mi |
| Elevation Gain: | 5,101 ft |
| Calories: | 4,569 C |
Live Animals:  White-Tailed Deer, Lizards, Rock Squirrel, Cows, Horses
Dead Animals:  Snake