10.09.2010 | Blog
We are finally out of Texas!  We left El Paso this morning and not long afterwards we crossed back into New Mexico.  We had beautiful weather and smooth roads (although no shoulders), through pecan groves and past cotton and chili fields.  At one point we were sprayed by a crop duster over the pecan trees!  Unfortunately, it didn't keep the mosquitoes away from Rob, as his legs are covered in bites.
We went through the town of Mesilla.  It hasn't changed much over the years, which allows visitors to see what an 1800's border town looked like. Western Legend Billy the Kid once stood trial for murder in a Mesilla courtroom, and the Mesilla Plaza was once a major stop for the Butterfield Stagecoach.
In Las Cruces we stopped at Senator Udall's office to pick up a letter he had written to commemorate our ride through New Mexico.  This is a picture of Xochitl Torres, Field Representative, handing over the letter.  (see a copy here)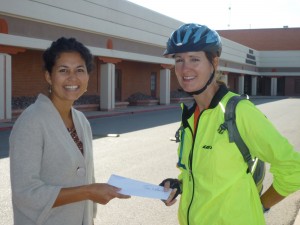 We saw lots of bicyclists today riding the Southern Tier route from West to East.  This is the first time we've seen women bicyclists during the entire trip!  We spoke with a very nice couple from Canada who had just bicycled the Continental Divide route and were on their way to El Paso to catch a plane home.
At one point, we came up to a border patrol post and wondered if we should stop.  Since the orange cones directed us that way, we decided not to chance it and we pulled up to the small trailer.  A very nice officer came out, asked us a few questions and we gave him a hat and a CIA coin.  We had it all set up for him to give Penny and Barb a hard time when they came through the post after us, but they decided to go a different way.
We then pedaled next to the Rio Grande and around mountains until we reached Hatch, New Mexico (Chile Capital of the World) and ate at Sparky's.  It was a great ride, up and down a few hills, with spectacular vistas.  It felt like we were quite remote, although we could see the main highway at times.
We were invited to the home of Matt, Patty, Molly and Ryan Olson for dinner and had a great time.  It felt like we were at home after a month of restaurants and hotels.  Their friends Frankie Benavidez and Jolie Tixier were there as well and the evening passed much too quickly.  The food was great and Rob especially enjoyed the french silk pie.  (Thanks again to all of you!!!)
Stats:
| | |
| --- | --- |
| Time: | 06:39:57 |
| Distance: | 84.86 mi |
| Elevation Gain: | 689 ft |
| Calories: | 3,462 C |
Live Animals:  Horses, Cows, Burros, Dogs, Grasshoppers
Dead Animals:  Skunks, Snake