10.14.2010 | Blog
Today started out as a good day – not too cold, not too hot; wide, smooth shoulders; little traffic.  Then, the wind started to pick up – but, it was still good, because it was at our backs.  We made it to the first stopping point, about 22 miles into our ride.  Hmmmmmmm…………….  Interesting.  We walked into a small "cafe" and no one spoke to us at all.  There was no food at this "cafe", only a few grocery items and an empty pot of coffee.  We were obviously not welcome, so we figured we would go on to the next town.  At that point, we were in the San Carlos Apache Reservation and the next town was "Geronimo".  No services there, so we went on to Bylas.
We stopped at a small store/gas station and it had a cappuccino machine!  A gentleman was standing there trying to find a lid for his cup and we struck up a conversation.  When I asked him where his accent was from, he replied, "Jordan".  How interesting to find 2 Jordanians on our ride and in such small, out-of-the-way places!  It was nice to talk with him for awhile and trade stories about our shared love for Jordan.
It was 23 miles to our next stop and that's when the excitement began!  The road was very hilly and we would speed down one side and slowly make our way up the other side.  Then, my back tire started to go flat and we pumped it up in the hopes that we could make it to the next town before having to change it.  The shoulders were so full of debri and trees and shrubs that we ended up having to ride in the road.  The wind began to get a lot stronger and keeping my bike steady was really difficult.
We stopped again to pump up my back tire about 10 miles from town and we planned to change the tube at our next stop.  After we got back on the road, I was being pushed by the wind into the gravel and rumble strips and had to stop.  Rob suggested I get as low as possible on the bike and hold the handlebars differently to get more leverage.  We were only about a mile away from town when he watched the wind lift me up and move me across the road.  That's when we made the joint decision that I was finished for the day!
We slowly made our way to the gas station in Peridot and I put my bike in the van (I finished 65 miles).  Rob continued on by himself to Globe (the last 20 miles).  Interestingly enough, my tire is still completely full of air and there doesn't appear to be a hole in it at all.  Think someone was trying to tell me something????  I do.
Penny, Barbara and I went into Globe and found our hotel for the night and when Rob arrived, we went into town for lunch at the Copper Parrot.  We then drove around the town a bit and went to the Pickle Barrel Trading Post for a little shopping.
Only 2 weeks from today we will be dipping our front tires into the Pacific Ocean.  We can't wait!  Apparently, neither can our favorite Starbucks Barista in Centreville!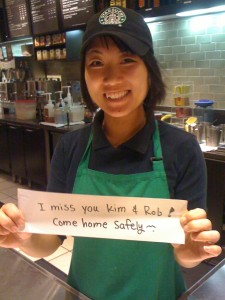 Stats:
| | |
| --- | --- |
| Time: | 06:18:52 |
| Distance: | 85.24 mi |
| Elevation Gain: | 2,623 ft |
| Calories: | 3,559 C |
Live Animals:  Red Shouldered Hawk, Horses, Chickens, Sheep, Dogs (let me rant just a bit, if you please.  WHY have a pet dog if you're going to let them run in the highway and chase people???  PLEASE keep your dogs in your yard!!!)
Dead Animals:  Skunk, Fox, Rabbit, Snakes
Temperature:  97°
Wind Gusts:  19mph