10.17.2010 | Blog
Penny and I got up early this morning to walk up to the 3rd hole at Ventana Canyon Golf Course; "the most photographed hole west of the Mississippi".  Along the way we saw quail, rabbits, and woodpeckers.  But we were told to watch out for red-tailed hawks, bobcats, deer, coyotes, javelina and roadrunners!  The view from the tee was amazing.  We could see over 100 miles into Mexico on one side and multi-million dollar homes built into the rock on the other side.  The green has an engineered heating and cooling system underneath it, since it is necessary to cool the green in the summer and keep it from freezing in the winter!  It was a wonderful way to start the day and enjoy God's creation.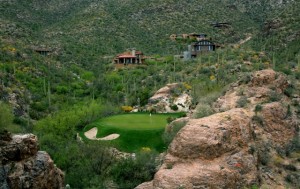 We drove from Tucson to Mesa so that we could be back on the bike route and we will start riding again tomorrow.  We enjoyed walking around Main Street and looking at all all the arts and crafts at the Mesa Arts and Culture Festival.  We stopped at a booth which had signs that said "Keep the Cubs" and I explained that I was from Illinois.  When the woman asked what part, I replied, "A small farm town outside of Chicago, called Yorkville."  Phyllis replied, "So am I!"  What a surprise to meet a fellow Yorkville High School graduate on the streets of Mesa, Arizona!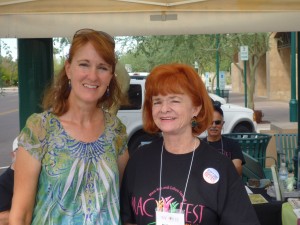 We went to Organ Stop Pizza for dinner where we had a great time and listened to the largest Wurlitzer pipe organ in the world!