10.18.2010 | Blog
It felt a little strange to be back on the bike after our break.  We started our day back where we left off on the 13th.  We pedaled through Superior, AZ which has special memories for the Jewkes family –  this picture is for them!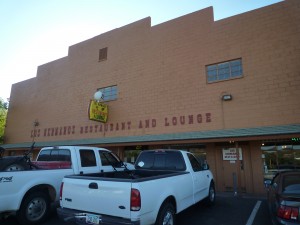 After leaving Superior, we bicycled through Gonzales Pass and down into Florence Junction.  Huge saguaro cactus are everywhere and there are lots of flowers in bloom.  The shoulders were broken and very bumpy and we ended up having to ride in the road with traffic going 65-70mph!  We then went through Superstition and Apache Junction (got to love these names!) on our way to Phoenix and we had bike lanes almost the entire way to the hotel.
We went to the Arizona Biltmore Hotel for dinner with our good friend, Vince Flynn and one of his friends from high school, Jay.  It's a beautiful hotel and the food was wonderful and the conversation entertaining.  It was a great night!
Stats:
| | |
| --- | --- |
| Time: | 04:54:25 |
| Distance: | 71.51 mi |
| Elevation Gain: | 418 ft |
| Calories: | 2,782 C |
Live Animals:  Red-Tailed Hawk, Lots of lizards, Cows, Horses, Chickens
Dead Animals:  Skunks, Snakes