10.12.2010 | Blog
What an incredible day!!!!!  There's no way my words are going to be able to express what we did/saw/experienced, but I'm going to try.
We left Silver City, NM and headed up to the "Continental Divide" sign to take a picture.  That's when we found flat #2 of this trip (Rob's – back tire).  After changing it out, and taking the picture, we started our ride.  It's actually a good thing we were delayed by about 45 minutes, because it was COLD!  My fingers and toes were freezing during our fast descent into Cliff.  In the first 30 minutes we went 12 miles!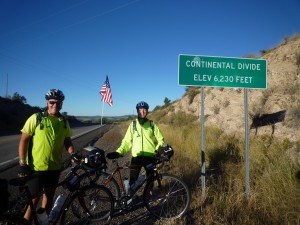 After 20 miles, we started to climb the Big Lue Mountains.  At one point we saw a beautiful hawk sitting on a fence post, then a roadrunner crossed right in front of us, and then a beautiful collie ran along with us for awhile!  We crossed into Arizona halfway up (at 1:30pm at 6,020 feet) and at mile 63 we finally reached the top!  We had climbed almost 2,000 feet.  The top of the pass was incredible!  It was absolutely beautiful and definitely worth the climb.  The pictures just don't show the magnitude of it all, but if you watch the video you can get a little sense of what it was like.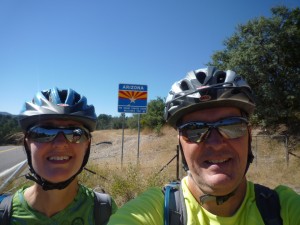 Then, it was downhill again!  We were going about 35mph, twisting and turning down the mountain.  We were soaring past incredible views of the canyon below and the mountains above us.  I don't think I'll ever forget that experience!  We coasted into Three Way, AZ and met up with Penny and Barbara, where we were supposed to finish for the day.  However, we looked ahead and could see the next climb and decided we really didn't want that to be our start for the next day, so we decided to keep going.
That climb ended up being about 1,200 feet in only 6 miles.  (At one point my chain came off.)  But, we had a long downhill after that!  Almost 2,000 feet in 23 miles as we rode into Safford, AZ.  We watched the sun set behind the mountains as we hit the 100 mile mark.  Our longest ride ever!  From there it was about 10 miles into town and our hotel for the night.
This is a snapshot of our climbs for today!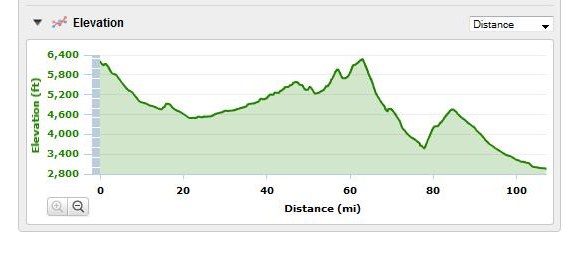 Stats:
| | |
| --- | --- |
| Time: | 09:04:58 |
| Distance: | 115.14 mi |
| Elevation Gain: | 4,485 ft |
| Calories: | 3,861 C |
Live Animals:  Hawks, Road Runner, Scorpions, Deer, Tassel-Eared Squirrel, Horses, Cows, Dogs, Grasshoppers (jumping and squished all over EVERYWHERE)
Dead Animals:  Skunk, Rabbit, Snakes