10.16.2010 | Blog
We woke early this morning in order to drive to Tombstone and enjoy Helldorado Days.  We walked around the town, shopped, watched gunfight reenactments and ate lunch at the OK Cafe.  It was a beautiful day and we had a great time.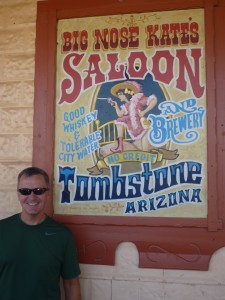 We picked up our bikes from Oro Valley Bicycle (thanks to Harry, Adan and Cory!) and they are now ready for our last few days of pedaling.  We headed back to the resort and the sky got very eerie and filled with dust.  Then there was a huge thunderstorm, which we watched from our balcony.  It was gorgeous to see the mountains turn different colors and to watch the lightening in the dark sky.  It was a treat to see a storm, as we haven't seen one since we were in Florida!  It was also nice that we weren't on the bikes!
We met a group of retired CIA officers at the Guadalajara Grill for a delicious dinner, organized by John Massie and Heidi August.  We had a lot of fun and they surprised us with Arizona bicycle jerseys (for Kim and Rob) and salsa, prickly pear syrup and red lime marmalade (for Barbara and Penny).  Thanks again to everyone who came out and made it such a special evening.  We appreciate all you've done for your country and for us!