10.19.2010 | Blog
Another great day in Arizona!  We slept in a little bit (got up at 6:30 instead of 5:00) and planned a slow morning.  However, we got a phone call saying that ABC News, Channel 15, wanted to do a live interview at 9am.  So we had a quick breakfast and got our bikes ready.  The interview went really well!  Then Rob had to change my front tire since it got a flat sitting in the van!  It appears that it was a defective tube, since the hole was on the inside seam.
We then biked toward the Arizona Capitol building about 20 miles away.  We allowed ourselves plenty of time and I was glad we did!  We were able to bike at a leisurely pace and take in the sites.  We biked through Arizona State University; what a beautiful campus!  We crossed the Salt River and stopped to look at Tovrea Castle.  We got to the downtown area with time to spare, so we stopped at a small cafe for drinks.
We then pedaled toward the Enduring Freedom Memorial and were greeted by Dave Hampton (of the Arizona Department of Veteran's Services), NBC and CBS, and the new friend we met last night, Jay.  We were given Arizona state coins, pins and a letter of welcome from Governor Jan Brewer.  We spent some time taping a few interviews and speaking with Dave and Jay.  The park near the Capitol is filled with memorials and we were able to view a few of them before we had to leave.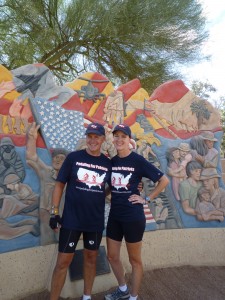 A few weeks ago, we received an email from Bill Kiess, who lives here in Phoenix, telling us that our bike map was routing us into dangerous territory and gave us an alternate route.  Yesterday, as we were planning our route, we were confused as to how we were going to get from the Capitol to our hotel.  So, I emailed Bill to see if he had any ideas.  He was kind enough to send us an email with all of the necessary turns and corresponding mile markers.  It was a great route and kept us off many of the major streets and intersections.  We were even able to ride along the canal for about 10 miles!
Not long after we got to the hotel, Steve (our friend from DC) arrived.  He will be riding with us for the reminding of our trip.  He shipped his bike here and we drove to REI to pick it up.  It will be great to have another rider to share our journey!
I hope to have a few more pictures up tomorrow, after Penny and Barb have a chance to load them.  I'll also have a copy of the letter!

Stats:
| | |
| --- | --- |
| Time: | 03:22:33 |
| Distance: | 37.88 mi |
| Elevation Gain: | 455 ft |
| Calories: | 1,550 C |