10.23.2010 | Blog
This morning we were able to walk out of our rooms into the motel kitchen, which felt very much like home, and gather around a breakfast table.  Randy made us all coffee and we had yogurt and melon for breakfast before heading out.  It was a little cold (about 55º) and looked like it might rain.  We had great big shoulders and little traffic for most of the ride.  We went through Hope, Arizona and as we rode out of town there was a sign that read "You're Now Beyond Hope".
We had to get on I-10 for about 12 miles, where there was very heavy truck traffic, but the shoulders were good so we were able to stay off the road.  That's where we picked up a 20mph headwind, which is no fun, especially with all the wind from the trucks!  It was also very noisy, so we couldn't speak to one another at all.
As we pedaled into Quartzsite, we all noticed what appeared to be a naked man standing in front of a bookstore.  He motioned for us to come in, but we were a bit in shock!  After getting to the hotel and changed, we all headed out for something to eat, telling Penny and Barbara we were going to stop at this cool book store afterward.  We had a great lunch at "Sweet Darlene's" (along with some amazing desserts) and headed over to Reader's Oasis Books.
The look on Penny's and Barbara's face was priceless!  Standing in front of the shop was an older gentleman with long hair and a long gray beard and leathery skin.  He was wearing only a strategically placed cod piece held by fishing wire and tape.  Once we got over the awkwardness of speaking to someone dressed only in their birthday suit, we found out that Paul Winer (aka Naked Paul) was the owner of the book store.  He had a very eclectic shop, with many different kinds of books (used and new), including some that were very rare.  It was so much fun to browse around and spend some time exploring.
We then did a little more shopping but we're too early for the reason most people come here.  Nine major gem, mineral, and 15 general swap meet shows, held mostly in January and February, attract about 1.5 million people annually!
We had dinner at Silly Al's Pizza and then stayed for the karaoke.  We had a lot of laughs, although we didn't know most of the songs that were being sung!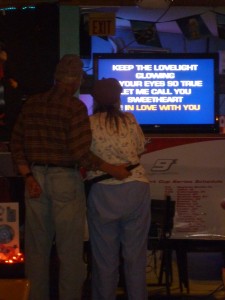 Stats:
| | |
| --- | --- |
| Time: | 02:51:04 |
| Distance: | 40.09 mi |
| Elevation Gain: | 772 ft |
| Calories: | 1,561 C |
Live Animals:  Cows
Dead Animals:  Vulture, Snake, Coyote