10.24.2010 | Blog
We got back on I-10 leaving Quartzsite this morning, which wasn't much fun but luckily we were only on the interstate for about 18 miles.  We then crossed the Colorado River and the California State Line!!!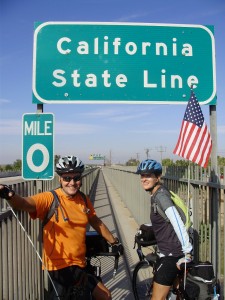 As we rode across the pedestrian bridge and back down to the frontage road, there was a small marina and park where there was a car show going on.  This area seems to be a haven for antique cars!  We looked around for awhile before getting back on the road.  We went through a number of small towns, but there was really nothing exciting to see.
About 30 miles into the ride we encountered a very strong headwind, which slowed us down considerably.  It was also a lot warmer, about 85º.  We stopped in Palo Verde for lunch at the "Lagoon Saloon".  Penny picked us up here, as this was the end of our ride but there was not anywhere to stay.  She will take us back to this spot in the morning.
Rob and Steve got haircuts while Penny and I got coffee and then we hung out until we went to dinner.  At the hotel we saw a flyer for a dinner and concert at the marina, so we headed that way not knowing what to expect.  We saw that the entertainment included Paul Winer – yes, the naked guy from the bookstore!  The meal was chicken, baked beans, potato salad, rolls and beer/soda/water and the entertainment was amazing!  Paul played some great boogie woogie and blues music, with many of the songs he wrote when he performed as "Sweet Pie".  (and yes, he was dressed, but when he performed as "Sweet Pie" he was not!)  He was accompanied by washtub player, Ralph Martin.  What a great evening!  We were commenting later that we were very quick to judge this "crazy" naked guy, but he turned out to be funny and talented and a wonderful entertainer.  It will definitely make us all think twice before we start to label others.  

Stats:
| | |
| --- | --- |
| Time: | 03:29:26 |
| Distance: | 43.23 mi |
| Elevation Gain: | 517 ft |
| Calories: | 1,514 C |
Live Animals:  Cows, Horses, Goats, Road Runner
Dead Animals:  Coyote