10.27.2010 | Blog
We had a great time at the Live Oak Springs Resort last night!  Sara was an amazing bartender/waitress and she brightened up a really difficult day.  And the chef (unfortunately, we didn't get his name) made us a delicious dinner – and the dessert was incredible!  Thanks to both of you!
When we got up this morning, it was 45º so we got out all the cold weather gear – hats, gloves, knee warmers, jackets, etc.  We had quite a few hills to climb right away, so we were able to shed some of the layers pretty quickly.  There was no real wind today (especially compared to yesterday!), we had bike lanes almost the entire day and most of our ride was downhill.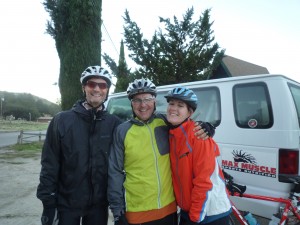 We stopped in Pine Valley for breakfast at a 50's style diner and we were really happy to have the chance to warm up.  We were on the Interstate again for just a short bit and passed through another border control station on our way down the mountain.  At one point, Steve got up to 40 mph!
We can already smell the ocean and are ready to end our ride tomorrow.  We are SO excited!!  We should be at the Hotel Del Coronado by 12:30pm!
Stats:
| | |
| --- | --- |
| Time: | 04:08:41 |
| Distance: | 52.05 mi |
| Elevation Gain: | 2,367 ft |
| Calories: | 1,692 C |
Live Animals:  Horses, Dogs
Dead Animals:  Rabbit