10.22.2010 | Blog
We left Wickenburg this morning after having had a rain storm overnight.  It was a little chilly but the clouds were moving away and the sun was breaking through.  We had a gradual climb for most of the ride (in the first 10 miles we climbed over 600 feet) and there wasn't much to see but the mountains in the distance and the cactus in the desert.  Steve spent a lot of time riding in the middle of the road (traffic was very light) and looking for dead bodies (thankfully, he didn't find any!).
We stopped for coffee and pie at Coyote Flats in Aguila.  The pie was homemade and delicious!  We passed lots of melon fields and as we came into Salome there were pistachio trees, cotton and organic carrots.  Penny and Barb found a cute place to stay called "Westward Motel" and we cycled right into the parking lot.  After a quick shower, we headed out to the local sandwich shop, "Buckaroo Cafe", where we had a great lunch.
We drove around the small town and found the tiniest little chapel and lots of RV parks.  Apparently, many people come here to stay during the winter.  We went back to the hotel to read and relax and answer emails.  This was the first time we really felt "at home".  Randy, the owner, has done a great job of fixing up an old motel with 5 rooms and making it very comfortable and welcoming.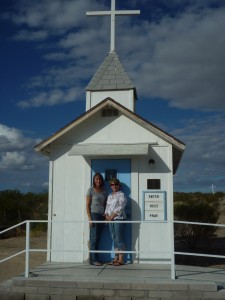 We walked across the street to the local market for bread, drinks and the makings for s'mores.  We used the motel kitchen to make peanut butter sandwiches for dinner and sat outside with Randy and his friend, Janet Leigh.  We had a great night talking and laughing and making s'mores.
Stats:
| | |
| --- | --- |
| Time: | 04:09:03 |
| Distance: | 54.07 mi |
| Elevation Gain: | 781 ft |
| Calories: | 2,247 C |
Live Animals:  Lizards, Dogs, Horses, Cows, Sheep, Rabbit
Dead Animals:  Coyote, Tarantulas, Rabbit