10.21.2010 | Blog
When we left this morning, it felt a little odd to have 3 people riding instead of the usual two!  Rob, Steve and I rode out of Phoenix and were making good time and enjoying the ride when Steve got his first flat.  He changed it quickly and we were on our way again – for about 1/4 mile.  Flat #2!  We were on our way again fairly quickly and then – flat #3!  That's when Steve found the piece of glass that had left a gash in his tire.  Penny and Barbara met us on the side of the rode so that we could get more tubes and Steve changed his tire once again.  Luckily, he didn't have any more problems after that!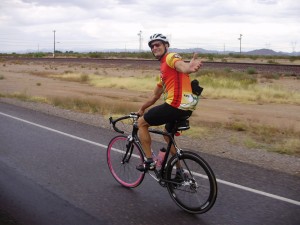 We pedaled through a few rain showers off and on for most of the day.  Not enough to cause a problem, but enough to make us a little chilly!  That was a welcome change. We were also able to see 2 rainbows!  We found a Dunkin' Donuts right as we entered town and stopped for a cup of coffee to warm up.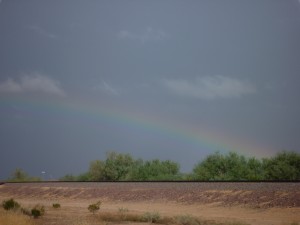 Wickenburg is known as the "Dude Ranch Capital of the World", but I won't be getting on a horse while we're here!  It has a downtown that looks just like it should be in an old Western movie and the people are very friendly.  We walked around town for a little bit and then had lunch at Nana's Sandwich Saloon.  Their sandwiches were amazing and the quiche was perfect!  We then had to take the van in because the "low tire pressure light" wouldn't go off and Jones Auto Center worked on it for free!  We went to Anita's Cocina for dinner and the food was delicious.
Stats:
| | |
| --- | --- |
| Time: | 03:22:06 |
| Distance: | 39.71 mi |
| Elevation Gain: | 1,100 ft |
| Calories: | 1,560 C |
Live Animals:  The cutest wild dog I've ever seen, Chipmunk
Dead Animals:  Bobcat, 3 Hawks, Skunk, Jackrabbit