10.25.2010 | Blog
Penny took us back to Palo Verde early this morning and we watched the sun rise over the mountains.  It was a little chilly (about 55º) but we had quite a few rolling hills right away, which warmed us up quickly.  We saw a bobcat run across the road in front of us, so we stayed away from the shoulder for awhile!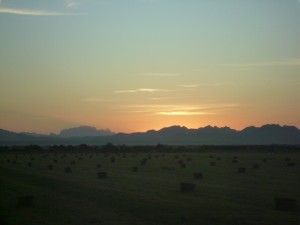 We rode through the Chocolate Mountains where there is an aerial and gunnery practice area for the Navy and Marine Corps.  They also contain gold which is estimated to be worth between $40 to $100 billion!  We also saw a protected area for the desert tortoise (they are listed as a threatened species).  We also passed the Mesquite Gold Mine, one of the largest gold mines in the country.  We climbed for the first 30 miles of the ride and as we started to descend we could see the Imperial Sand Dunes and the town of Glamis.
We stopped in the only restaurant and learned that they are there to support the hundreds of thousands of people who come to ride off-road vehicles in the dunes.  And, I think there were at least a thousand people leaving there today!  After we left the restaurant, we were passed by many of them as they headed home.  The trailers they were hauling were very large and the shoulders weren't!  Most people were very courteous, though.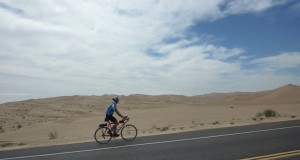 (We'd like to say thanks to Steve for taking such great pictures of us these last few days.  It's nice to have photos of Rob and I together!)
As we entered Brawley, there was no mistaking the smell.  Cows – and lots of them!  Brawley has a significant cattle and feed industry and hosts the annual Cattle Call Rodeo each November.  We had an early dinner at the "Aspen Inn" and headed back to the hotel.  We have a HUGE climb tomorrow so we need to be rested!
Stats:
| | |
| --- | --- |
| Time: | 05:24:53 |
| Distance: | 67.07 mi |
| Elevation Gain: | 1,669 ft |
| Calories: | 2,664 C |
Live Animals:  Bobcat, Herons, Quail, Cows
Dead Animals:  Coyote, Tarantula