10.26.2010 | Blog
Our day started with a small downhill out of the parking lot of the hotel.  That was the only downhill of the day!  The wind was very strong and we were hoping as the day went on that it would let up.  It didn't.  By the time we reached Plaster City, CA, the wind was at 30 mph sustained with 40 mph gusts.  (You can see the video here.)  We felt like we were being sand blasted!  After all 3 of us got blown off the road, I made the decision to get into the van and reassess the situation after Rob and Steve rode the 10 miles on I-8.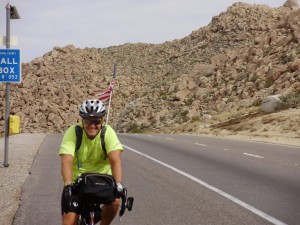 I think I made a wise choice.  It took them 3 hours to go 10 miles!  Granted, they had to go from 1,900 to 3,200 feet, but it was at the blistering fast pace of 2-3 mph!  The wind was 35mph in their face, with gusts of 50 mph.  They both commented that maybe they should have quit when they saw the 18 wheeler that had been blown off into the canyon – but, of course, they kept on.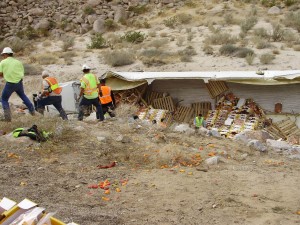 We stopped for the night at the very top of the mountain in Live Oak Springs.  There's only a small climb tomorrow and then we start our descent!
Stats:
| | |
| --- | --- |
| Time: | 07:02:24 |
| Distance: | 63.39 mi |
| Elevation Gain: | 5,235 ft |
| Calories: | 3,206 C |
Live Animals:  Cows, Horses, Chickens, Sheep, Herons
Dead Animals:  Snake