9.28.2010 | Blog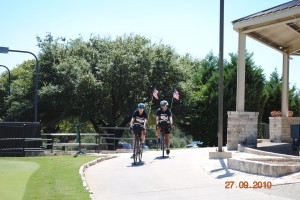 What a great day today!  We biked from Sunset Valley into the Barton Creek Resort and were met by many people clapping hands, waving pom-poms and cheering us on.  To top it all off, they offered to let us stay here for free for 2 nights, along with offering me a massage, manicure and pedicure!  A grand gesture for sure, and certainly very appreciated.  Along the way, we met up with a gorilla named Sam!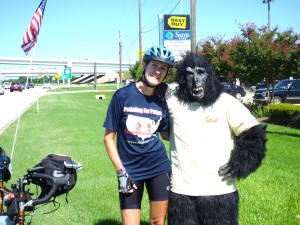 We then took our bikes in for their own "spa" treatment – to Bicycle Sport Shop in Austin.  They were very friendly and offered to do the work quickly so that we could pick them up the next day.  We then came back to the Resort to relax and unwind before my massage at 6pm.  (Which was heavenly – thank you for asking.)
We decided to go to dinner at Threadgill's – the original one on N. Lamar.  "It was here that Janis Joplin developed her country and blues hybrid-styled voice that would blur the lines between country and rock n' roll."  The food was very good and the pictures on the walls kept us all entertained!
When we got back to the hotel the Bears – Packers game was on, so we watched the last quarter (GO BEARS!!) and then fell into a deep sleep, knowing we didn't have to get up in the morning!
Stats:
| | |
| --- | --- |
| Time: | 00:50:07 |
| Distance: | 8.80 mi |
| Elevation Gain: | 625 ft |
| Calories: | 397 C |
Live Animals:  Deer, 2 Hawks, Big Beetles, Sam the Gorilla
Dead Animals:  Armadillo, Snake