9.18.2010 | Blog
We were fortunate enough to get a call last night from ABC 3 News station in Pensacola, asking if they could do a story on our ride and our mission.  We got our bikes and our banner outside, quickly changed into our Pedaling for Patriots polos, and did an interview on the hotel lawn.  We have not yet seen a link to the story, but will let you know when we do!  This is probably the perfect time to mention that our daughter, Samantha, designed all of our t-shirts and the banner.
We left Pensacola about 6:30am and headed toward Ft. Morgan.  We crossed from Florida into Alabama at 8:30am, having ridden about 25 miles.  We were surrounded by water on both sides and had very little traffic and a wonderfully marked bike lane to travel.  We made it to the ferry with plenty of time to spare and were able to have a sandwich and talk with people who were waiting.  It was interesting to hear them try to guess what "CIA" stood for!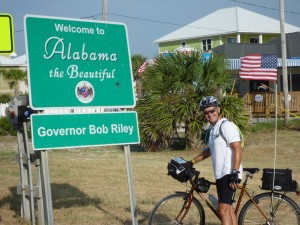 The ferry took us about 4 miles to cross Mobile Bay and land at Dauphin Island and on our way we saw a number of pods of dolphins and one even jumped completely out of the water!  Here is some video from the ferry ride. The people of Alabama have been so nice.  All along the road we had people wave, yell "hello" and give us plenty of room to ride (even when there were 10 miles of rumble strips and we had to ride way in the road!).  We were pleasantly surprised by the very positive reception we received from the high school students who passed us as they left school in Bayou La Batre.  Too bad we won't be in Alabama for much longer!
Today we crossed a total of 4 bridges (one was 100 feet high!).  We also passed through the Alabama Beach Mouse Protected Area.  We expected to see little mice with swim shorts and surf boards crossing the street!  We were kept amused by the campaign signs along the way:  "Void Boyd", "Reiter is Right", Big Luther Strange for Big Honest AG", and "Dave Walters – www.HadNuff.com".
Our stats:
| | |
| --- | --- |
| Time: | 06:35:50 |
| Distance: | 87.04 mi |
| Elevation Gain: | 780 ft |
| Calories: | 3,671 C |
Live Animals:  Snakes (including a very cool iridescent green one), Dolphins, Cows, Donkeys, Geese, Ducks, Dogs (including 1 big mean, scary one), Sea Birds (lots of pelicans and one very large, all black heron)
Dead Animals: Crabs, snakes, armadillo