9.16.2010 | Blog
Leaving Crestview, we saw a sign outside a bar that read, "Ladies in Bikinis Drink Free".  Too bad we didn't see that last night! 🙂  We also passed a rather unfortunately named retirement home: "Golden Waters".  It was a beautiful morning and we enjoyed the wide shoulders and little traffic on Route 90.  We passed a horse farm with a large tree carving and stopped to take a few photos.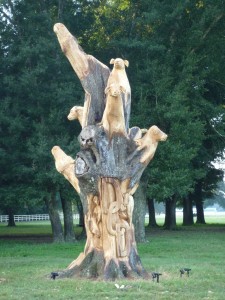 We paralleled State Route 1 for about 6 miles.  This road is also known as the old Spanish Trail, was built in 1919-1921, and is made of red brick.
We stopped after about 30 miles and had breakfast at a little cafe in Milton.  From there we continued on Route 90 to Pensacola.  There was a lot of traffic from then on, although there were a few marked bike lines up to the until we hit the Bayou Texar Bridge .  We then turned onto the Pensacola Scenic Bluffs Highway and for the next 11 miles it was up and down and up and down, all along the coast.  We never saw any flowers, but it smelled wonderful!
We've dropped our bikes at Bikes Plus for a quick check-up while we take a down day.  We'll be back on the road on Friday!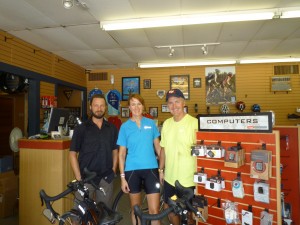 Stats:
| | |
| --- | --- |
| Time: | 04:08:20 |
| Distance: | 54.84 mi |
| Elevation Gain: | 1,083 ft |
| Calories: | 2,266 C |
Live Animals:  Nubian and Pygmy Goats, Cows, Horses, Pigs, Chickens, Dogs, Lots and lots of Dragonflies
Dead Animals: Armadillo, Raccoon