9.22.2010 | Blog
Today was one of our toughest riding days so far.  We left St. Francisville, LA at dawn in order to make the ferry across the Mississippi.  It only took about 10 minutes and then we were in New Roads.  The route took us on back roads along the levee for about 15 miles where the shoulder was smoother than the road!  We saw sugar cane and cotton fields along the way.  We then turned onto a much busier highway and toward a mile-long bridge with no shoulder.  We made a joint decision to climb up onto the trestle and walk our bikes across the bridge, even though we weren't supposed to be up there!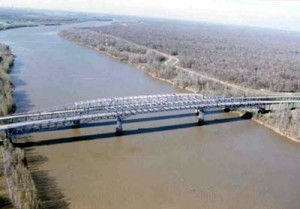 For the next 25 miles, we were on more back roads with no shoulders but little traffic.  We crossed over the Atchafalaya River Bridge in Simmesport and then had some lunch.  (There were frog legs and gator bites on the menu, but we didn't order any!)  We heard a lot of Cajun spoken, but didn't understand much of it.  Luckily, a smile means the same thing in every language!
When we started again, it had gotten considerably hotter (95°) and much windier.  We had 25 mph winds pushing us backwards for the next 30 miles.  Add that to the rough road conditions, the dogs chasing us and more logging trucks, and we were ready for our day to end!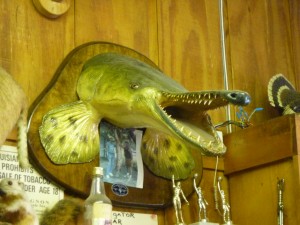 We stopped in Lebeau for something to drink and found out the local restaurant is somewhat of a natural history museum!  There was a stuffed alligator, rattlesnake, bobcat, an alligator gar fish (which I thought was made-up, like a jackalope, but it's not!), and a huge snapping turtle, all caught locally.  I think the locals were very amused by our reactions to them all!
Stats:
| | |
| --- | --- |
| Time: | 06:07:04 |
| Distance: | 84.04 mi |
| Elevation Gain: | 517 ft |
| Calories: | 3,537 C |
Live Animals:  Snakes, Horses, Cows, Hawks, Cattle Egret, Brown Pelican, Too Many Dogs to Count
Dead Animals: Owl :(, Snakes, Armadillo, Raccoon