9.29.2010 | Blog
Today was "Explore Austin" Day!  But first, a wonderful breakfast, overlooking the canyon, and then my manicure and pedicure (do they give discounts when you only have 9 toenails?).  We spent the day exploring downtown Austin and were surprised by how "bike-friendly" the city is!  Bike lanes are everywhere and the motorists are very courteous.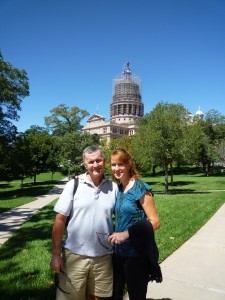 We picked up our bikes from Bicycle Sport Shop and were very happy we got them here when we did!  Both bikes needed to have their chains and gear cassettes replaced and my bike had two large gashes in both the front and back tire (from the pothole probably).  Rob's bike had a broken spoke.  Both bikes were cleaned and lubed and ready for the next 1,700 miles!
Now for the BIG news:  We have been given the opportunity to meet with President Bush (43) in Dallas tomorrow!  Thus, we will drive up to Dallas and continue our ride west from Dallas instead of Austin.  While this will add a few miles to our ride, the opportunity to meet with President Bush and discuss the ride obviously outweighs a few more hours on the bike saddle.
Unfortunately, this route change will have us missing Del Rio, Texas en route to El Paso.  However, it will give us the opportunity to pass near Abilene, Lubbock and other great Texas cities.  We're excited about these next few days!