9.19.2010 | Blog
The day started with Penny driving us back to Grand Bay, Alabama, where we left off yesterday.  (There were no hotels there so we had to be driven to Moss Point, Mississippi to sleep.  The room next to us was the headquarters for the oil spill clean-up in that area.  We met a number of people who had spent their day cleaning oil off sea animals.)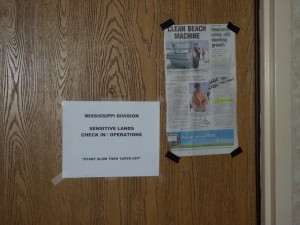 Everything was going well until about an hour into the trip when the road DISAPPEARED!  It was just sand and gravel and we ended up having to walk for about a mile.  Luckily, the road reappeared after that and we were on our way!
We crossed into Mississippi and stopped in Hurley at the Creations & More Coffee Shop & Café for a cup of coffee and a donut.  We had a great time chatting with Gary Robinson and he offered to have us meet someone from the local paper.  Unfortunately, we really needed to get going, since we were meeting Penny in Larue.
Larue turned out to be a church and nothing else, but the pastor was kind enough to let us in to use the bathroom and cool off a bit.  After that we hit the worst road ever!  Do you remember those machines that they used to sell to help you lose weight?  You would put a belt around your waist and it was supposed to jiggle the weight off?  Well, that's exactly what this road felt like!  Over 30 miles of bumpy, gravelly, awful road.  We were very happy when we had to turn off onto the highway!
Yesterday was my parents' 50th wedding anniversary and today is our son's birthday.  I was thinking today how nice it would have been to have spent time with them this weekend.  But, our time on the road is temporary and we will soon be back with all our friends and family.  Those who have died in service to their country do not have that luxury.  So, we pedal on.
Our stats:
| | |
| --- | --- |
| Time: | 06:53:51 |
| Distance: | 84.79 mi |
| Elevation Gain: | 1,529 ft |
| Calories: | 3,434 C |
Live Animals – Turtle, Texas Longhorn cattle, Cows, Ducks, Geese, Chickens, Donkeys, Goats, Lots and lots of dogs (to include 2 very brave little dogs who ran out into the middle of the highway!), Turkey Vulture, and Horses (including one who ran along the fence as we road past – yes, she won).
Dead Animals – Raccoon, Armadillo