5.14.2010 | Blog
you have to dodge chickens and horse poop!  We had a great ride today, starting in Purcellville, through Waterford, Lovettsville and Hillsboro.  We climbed Short Hill Mountain at the end of the ride.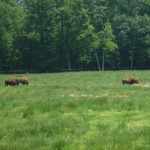 We saw buffalo(!), a HUGE black snake (about 6 ft. long), a skunk and a fox – along with those chickens and horses.  We had a great lunch at the Lovettsville Pizza and Subs (http://www.lovettsvillepizza.com/) and walked around Thrifty Sisters Treasures (http://www.thriftysisterstreasures.com/).  We also tried the Clif Shock Roks, a protein bite about the size of a grape.  The chocolate-chip cookie dough flavor isn't too bad, although it tastes a little like a malted milk ball mixed with a jellybean.
The hills today convinced us that we definitely need a bike with more lower gears, so we have an appointment on Monday at The Bike Lane in Reston (http://thebikelane.com/) to look at the Surly Long Haul and get a proper fitting.
We got an interesting phone call today, so we may have some exciting news next week.  Please keep checking back for more information!!